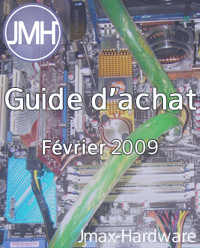 Comme tous les mois, notre partenaire Jmax-Hardware, vous concocte un petit guide des configurations du mois pour ceux qui souhaitent effectuer un achat et on besoin d'être guidés. Ce mois-ci, les nouveautés sont quatre nouveaux types de configuration : "Économique", "Workstation", "Workstation avancée" et "HTPC films".




Citation :
Bienvenue dans ce guide d'achat. Ici, peu importe votre niveau ou vos connaissances. Tout est fait pour que vous puissiez trouver les informations et les produits de qualité nécessaires à la réalisation d'une configuration au rapport qualité / prix introuvable dans les grandes enseignes !

Chaque mois, vous trouverez dans ce guide des conseils sur des unités centrales types. Ces unités centrales sont déterminées selon un budget et une utilisation particulière du PC. Le choix des composants a été effectué pour satisfaire le plus grand nombre d'utilisateurs. Ces éléments ont aussi été sélectionnés pour...
Lire la suite de l'article chez JMH
Be the first who posts a comment ! !
Les commentaires on été désactivés.